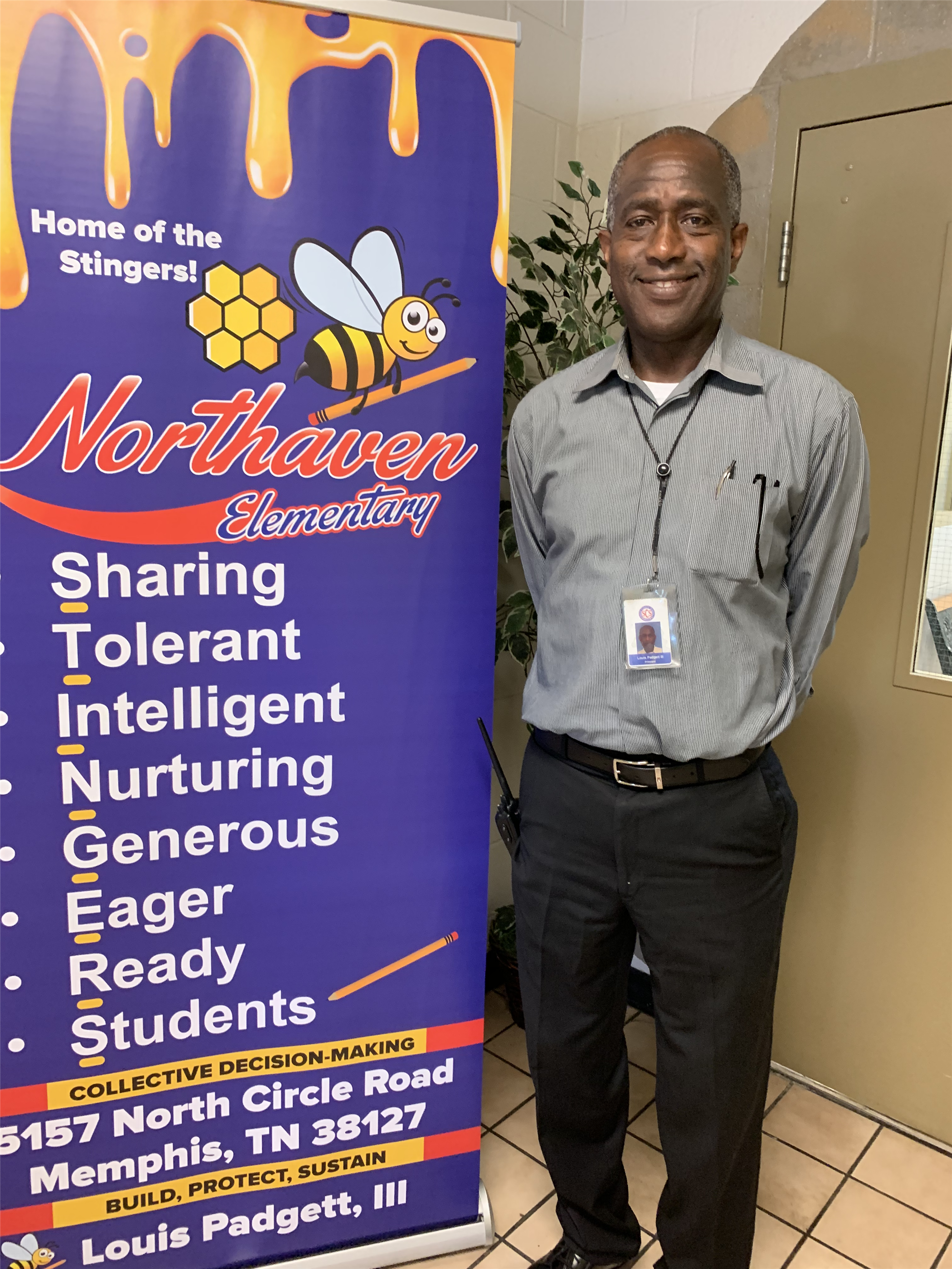 Phone:
Email:
Degrees and Certifications:
Mr.

Louis Padgett

Hello everyone,

Welcome parent(s) and caregiver(s) to another school year. Time moves quickly and I am always excited about a new school year. First, let me thank every parent and caregiver for sending children to Northaven Elementary School. It is an honor for me to lead a staff that serves your children by making sure they learn and show what they learn on District and State Tests. I am grateful to lead a teaching staff that believes that the role of school is to prepare children for meaningful, positive participation in our world. The world is changing and changing rapidly. Children must be capable of reading, writing, creating and thinking as they work together. These tasks are made more complex by the addition of Artificial Intelligence, Computer & Tech Devices, along with Robots that are emerging in the workplace and at home. There is much to do and at Northaven we will do what it takes for children to be successful.

Everyone please keep in mind that our world has changed and every minute of the school day is precious. If you need to speak with your child's teacher ask for a meeting in the daily Agenda or Call 416.2800 and leave a message request. Visiting in the classroom at the start of the school day is not productive as the teacher is monitoring, welcoming students, and preparing for the day. I will make sure my staff is accessible and flexible to meet within reason. We will meet to discuss any concerns. I need the help of everyone working together to make sure learning occurs at a high level. Help us to make sure ever child is a reader and thinker.

Parents and Caregivers I need you to do these things to help:
Make sure children come to school every day and stay all day.
Communicate, please check your child's Agenda daily and initial in the space provided then look for the Folder that comes every Tuesday with student work samples, complete and incomplete. Complete the incomplete work and return it to Northaven for credit.
Attend Parent and Caregiver meetings and come learn alongside your child. We plan parent meetings and opportunities for you to come and learn about what we do with your children. Please come to those meetings. We cannot do it all alone. Parent(s) and caregiver(s) plan to attend at least 4 meetings during the school year. I do not want parents to stay away. I want you to come to see the things that we do with and for your children.
Check weekly with your child to see if he or she is checking out books in the library. Require reading at home, in the car and on the weekends. This year's activities are being planned for avid readers. Listen to you child read and please remember, NO VIDEO GAME PLAY DURING THE SCHOOL WEEK.
Volunteer, everyone should volunteer to do at least 4 things at Northaven during the school year. Volunteers are valuable and useful. Come help!
Come to the Northaven Community Association Meetings the first Tuesday Night of each month at 6pm. Together we can improve life in the community and make our properties look better.
There are 420 minutes in the school day, parent(s) and caregiver(s) I have directed the teachers to use them wisely. Please remember to Limit the number of times children are late or checked out early. Schools that do not produce high levels of learning are closed for performance. Do not check children out early unless it is an emergency. Everyone can help by making sure children attend all day, every day.
So Parents and Caregivers do not stay away we aspire to be a community school, a rich learning place that enchants and shows children the possible. If you need access to the internet, help with a job search, or the application just stop by. If you need to set up your email, stop by. Iif you need access to the internet to interact with agencies/check on utilities, bills, etc. stop by. Our new Parent Room is coming together, we have space for you to work online, take classes, etc.
At Northaven we are STINGERS:
Sharing, Tolerant, Intelligent, Nurturing, Generous, Eager, Ready, Students!!!
Contact me to help, contact me, Louis Padgett, with your concerns at: padgettl@scsk12.org or dial 901.416.2800. Also check us out on Facebook, Instagram, & Class Dojo.
Cheerfully written with respect for all,
Louis Padgett, III
principal