RETURN STRONGER POWERPONT
RETURN STRONGER FAST FACTS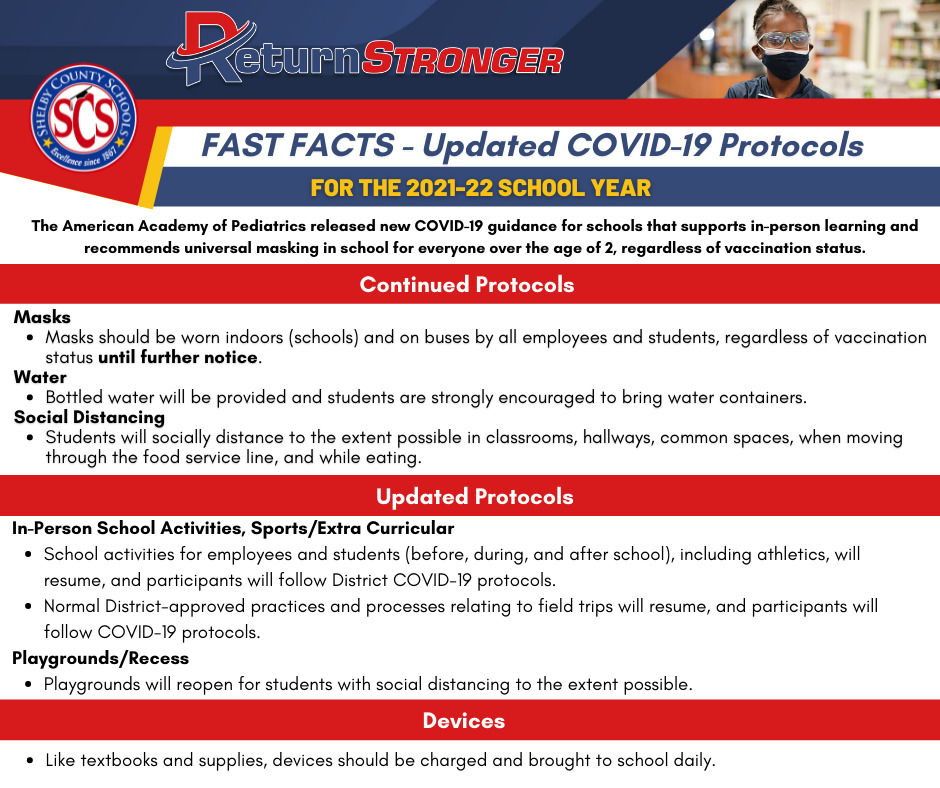 LATEST Announcements
Let's Get Back to School

Saturday, July 31, 10 a.m. – 2 p.m., Pipkin Building at Tiger Lane SCS is partnering with the City of Memphis and other stakeholders to host a back-to-school extravaganza at the Pipkin Building at Tiger Lane. Available resources will include school supplies, uniforms, haircuts, COVID-19 vaccinations, and more.

As we countdown to RETURN STRONGER for the 2021-22 school year, SCS is partnering with organizations across the city and county to engage families and ensure students have the resources and supplies needed for a successful school year. For updates, monitor www.scsk12.org

Safe Summer Block Parties

Hickory Ridge Middle School – July 23, 5 p.m. – 7 p.m.

Trezevant High School – July 30, 5 p.m. – 7 p.m.

Whitehaven High School – August 5, 5 p.m. – 7 p.m.

SCS has teamed up again with our partners at APW Agency for family fun. Parents and students are invited to join the Recruitment, Alumni, and Multicultural Affairs team at block parties at Hickory Ridge Middle School (July 23), Trezevant High School (July 30), and Whitehaven High School (August 5).

Family Week Dance Challenge

August 1-7

All week, we're asking families to submit a TikTok or family fun video to share on social media using the hashtag #901FamilyWeek.The family with the most likes during the week will win a special prize.

Parent Ambassador Kick-off

Wednesday, August 4 at 5:30 p.m., Location TBD

Parent leaders will kick-off the school year at the Parent Ambassador Orientation (location and keynote TBD). We are looking for SCS parents/ guardians who want to be more involved at the district level by sharing their input and ideas. Parent Ambassadors serve as a representative body that acts as a liaison between the district and the parent community with an overall goal of supporting the educational success of all students and promoting parent voice. LEARN MORE

Run with Ray on the River

Saturday, August 7 at 8 a.m., Beale Street Landing

Families, teachers, staff, and community partners are invited to participate in a 2.1K family-fun run with Superintendent Dr. Joris M. Ray at Beale Street Landing. This event features a community health fair and screenings. To register, click HERE.

Return Stronger: Family Festival

Saturday, August 7, 10 a.m. – 2 p.m., Board of Education (160 S. Hollywood)

Families are invited to celebrate the start of the school year at the Return Stronger Family Festival at the Board of Education. SCS Departments will be on site to support families with registration, immunizations, school supplies, bus safety, and a school supply giveaway to ensure that students are ready for the First Day of School (Monday, August 9).

Ready. Set. Register!

Still need to register your student(s) for the 2021-22 school year? It's not too late!

Visit www.scsk12.org/registration or take advantage of one of our upcoming summer registration events. Haga clic AQUÍ para encontrar las ubicaciones dónde ofrecerán ayuda con las matrículas este verano.
Cougar Spotlight
June Teacher of the Month. Congratulations, Ms. Maryellen Eaves.

Our June Staff Member of the Month, Ms. Tanica Whitelow.

We want to congratulate the N95 Innovators GH which consists of Aaliyah Digby, Natavia Bates, Trinity Watson, and Zavon Luckett were announced the winners for "Most Appealing" Design in Tennessee Tech College of Engineering's Face Mask Challenge. Please give them a huge Georgian Hills shout-out! They worked so hard, and we are beyond proud of them!
SOCIAL EMOTIONAL LEARNING