Principal's Message
Greetings,

As I enter my 13th year at Kingsbury High School, I have been afforded the honor and privilege to serve as Principal for the 2021-2022 school year. I have a vested interest in the Kingsbury community, and I am committed to improving student achievement as we prepare our students to make valuable contributions to society. I am a firm believer that all students can learn, and it is our mission to help every student reach their maximum potential. At Kingsbury High, the home of the mighty Falcons, every stakeholder has a voice. As we Re-Imagine 90I, I look forward to developing new relationships and transforming student educational experiences.

Together, we MUST BELIEVE!

Together, we WILL ACHIEVE!

Together, we

ARE REIMAGINING 901

!

Principal Shenar Miller
Para ver esta página en español. Haga clic en el botón TRANSLATE en la parte superior de la pantalla.
Early Post Secondary Opportunities Powerpoint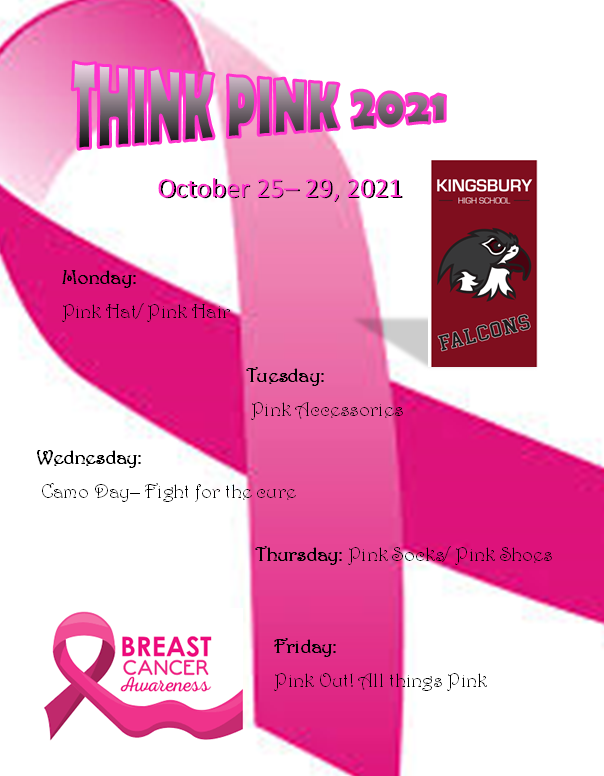 Reporting a Positive COVID-19 Case
KHS Parents,

If your child is exhibiting any of the following symptoms please do not allow them to come to school:

Shortness of breath or difficulty breathing

New loss of taste or smell

Contact the school immediately at (901) 416-6060 if your child has tested positive for the Covid-19 Virus. Please contact Kingsbury High School if you have any questions or concerns.

Additionally, if your child has tested positive for the Covid-19 Virus, he or she must have a clearance letter from a doctor in order to return to school. Please contact the office for details.
Quarantine Meals for Students
Beginning Monday, September 20, 2021, SCS Nutrition Services will provide free breakfast and lunch meals to students who are in quarantine due to a positive COVID-19 test or are deemed a close contact of someone who has tested positive for COVID-19.

The meals will be distributed through a touchless drive-thru process -- the same process used for bulk meal distribution -- at each location to prioritize safety. Parents MUST have their child's PowerSchool ID to receive the meals.

For more information on distribution and verification requirements, click HERE.
LOG IN INFO
Need help logging in to your SCS device?

First time log-in information:

Please ensure you connect to your home internet or hotspot

Username - 6-digit student ID (PowerSchool Number which is also known as the i-ready log-in number or their lunch number)

Password - 8-digit birthdate (MM/DD/YYYY)

After logging into your device, follow the steps below to access student schedules:

Log into edugoodies - http://www.edugoodies.com/scs

Click on Office 365 portal (first tab) - will automatically take you to email
Click on Apps on left hand side-find the TEAMS App (purple icon with people)
Click on calendar (fifth icon on left hand side)
Schedule will then appear
Click on class-
Click join meeting (found at top right)- which will open the classroom up