Principal's Message
We welcome you to the 2020-2021 school year. When selecting courses, we ask that you confer with one of our outstanding counselors to consider your requests. If a member of administration can help you in anyway, please let us know.

Make sure that you utilize all of the resources provided. Most resources are easily accessed through Clever or on our interactive school website. Read your handbook thoroughly to acquaint yourself with school rules, policies and procedures.

This is a great opportunity for an innovative approach towards teaching and learning. We will work together to make sure that our students are college and career ready. GO MIGHTY FALCONS!!!!

Principal Matt Smith
Para ver esta página en español. Haga clic en el botón TRANSLATE en la parte superior de la pantalla.
Announcements
Virtual Optional Open house January 13,2021 5:30PM Click HERE to attend.

We will be hosting a virtual Microsoft Teams Parent Training on January 14, 2021 at 5:00PM. Click HERE to join the meeting.

Kingsbury High School will remain virtual. SCS High Schools tenative reopening date set for February 22, 2021.

If your SCS Device is damaged or broken, please bring it to KHS on Wednesday or Thursday between 3:30PM and 5:30PM. Be sure to come with a parent/guardian.

Missed the English Textbook Pick up?? You can access your book online or stop by KHS to pick up a hard copy.

Parents please click the link below to complete the Migrant Survey

EDGENUITY VIRTUAL LEARNING FOR FAMILIES

The Edgenuity team will be hosting a Virtual Learning for Families webinar series as a way to engage with parents, guardians, and families to share tools and tips for success. Please click this link Click Here, to attend. The sessions will also be recorded – information on accessing the recordings will be shared at a later date.

Counselor Referral Form

Click to contact your child's counselor today!

You can access your textbooks through the CLEVER portal.

CLICK HERE TO GET ONLINE TEXTBOOKS

If you would still like a physical copy of your textbooks please call the school at (901) 416-6060 to schedule a pick up time.
Parents of ESL Students,

We need to ask you to complete the survey about WIDA testing. WIDA is the yearly English test to measure how much your student has progressed since last year. You should have received a text with a link to this website (https://scstn.powerschool.com/public/). This is important because we need to know whether or not you plan to send your child to school for this one day of testing.

Thanks,

Kingsbury ESL Department

Padres de Estudiantes de ESL,

Necesitamos pedirle que rellene la encuesta sobre la prueba de WIDA. WIDA es la prueba de inglés anual para medir cuánto ha progresado su estudiante desde el año pasado. Debería haber recibido un mensaje de texto con un enlace a este sitio web (https://scstn.powerschool.com/public/). Esto es importante porque necesitamos saber si planea o no enviar a su hijo a la escuela para este día de pruebas.

Gracias,

Kingsbury ESL Department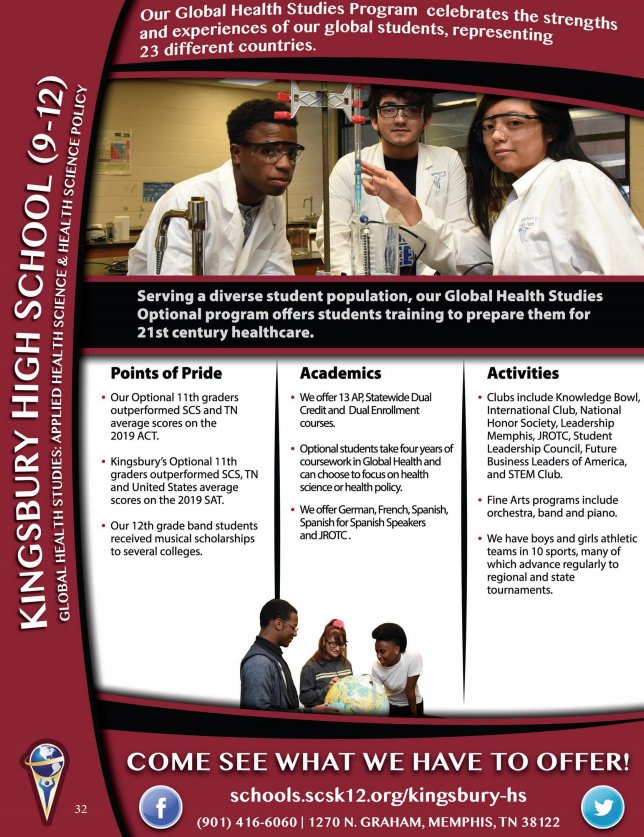 LOG IN INFO
Need help logging in to your SCS device?

First time log-in information:

Please ensure you connect to your home internet or hotspot

Username - 6-digit student ID (PowerSchool Number which is also known as the i-ready log-in number or their lunch number)

Password - 8-digit birthdate (MM/DD/YYYY)

After logging into your device, follow the steps below to access student schedules:

Log into edugoodies - http://www.edugoodies.com/scs

Click on Office 365 portal (first tab) - will automatically take you to email
Click on Apps on left hand side-find the TEAMS App (purple icon with people)
Click on calendar (fifth icon on left hand side)
Schedule will then appear
Click on class-
Click join meeting (found at top right)- which will open the classroom up