PRINCIPAL MOSS ON THE ELLEN SHOW
School Flyer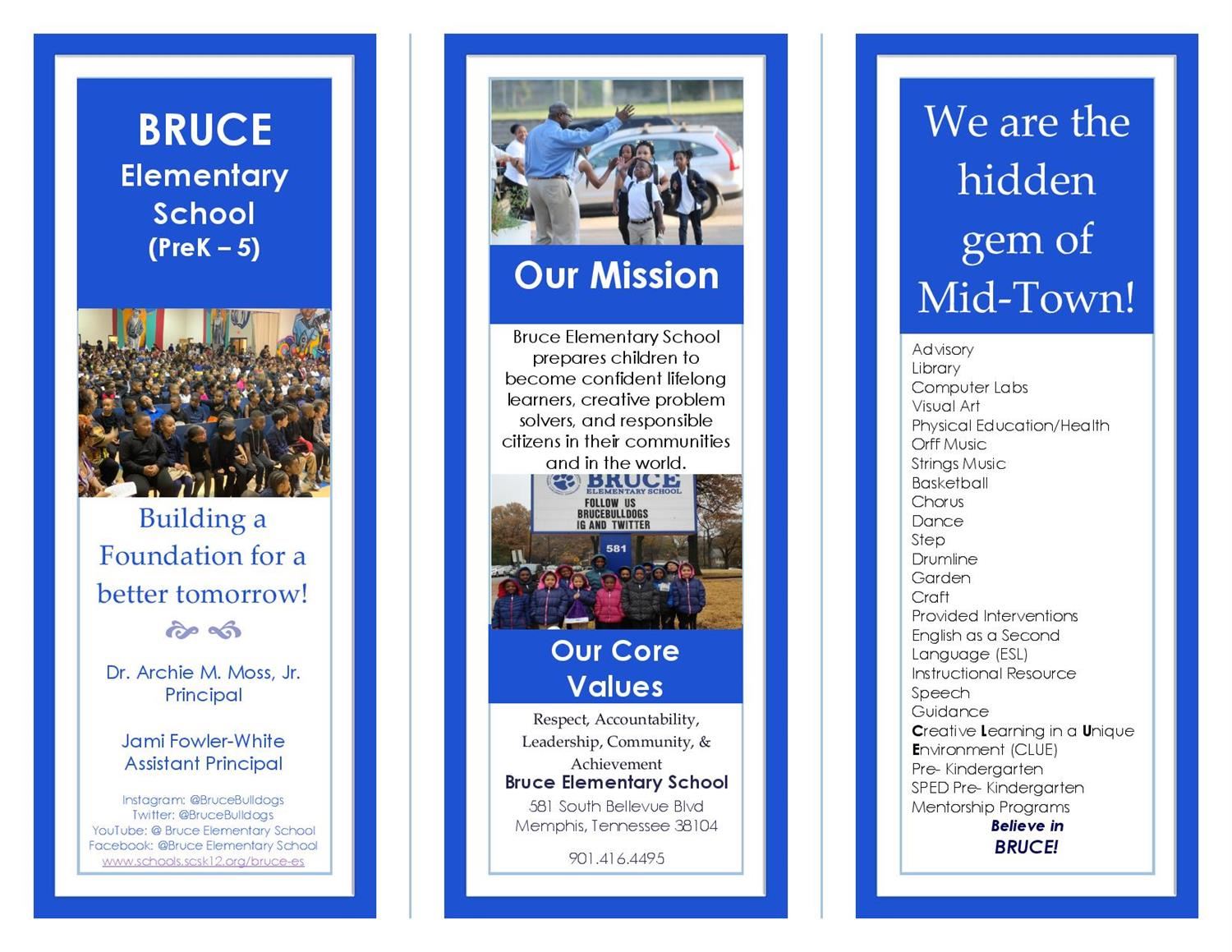 VIRTUAL OPEN HOUSE FEB. 2!
Join us at one of our Virtual Open House event on February 2! Meet Principal Moss and hear from some of our awesome staff members.Plus learn all about all of our school programs and why Bruce Elementary is a great place for your family.

Click HERE to join the 12 PM Open House.

Click HERE to join the 5 PM Open House.
ABOUT US
Our Mission: Bruce Elementary School prepares children to become confident lifelong learners, creative problem solvers, and responsible citizens in their communities and the world.

Our Pillars: 1. Creating an environment of high-level content knowledge through rigorous instruction. 2. Creating a college-going culture.

Facts About Bruce:

The original Bruce Elementary School was built in 1908.

On October 3rd, 1961, 13 African-American first grade students were enrolled in schools that were previously all white. The 13 students became known as the Memphis 13. Bruce was one of the 4 schools (Gordon, Rozelle, and Springdale) to integrate Memphis schools. The 3 brave students who integrated Bruce in 1961 were Dwania Kyles, Harry Williams, and Michael Willis (Menelik Fombi).

The current Bruce School was built in 1999.

Bruce was recognized as a 2018 State of Tennessee Reward School.

Fall 2019 SCS Elementary Basketball League Champions

In June 2020, Principal Moss and Bruce Elementary School was featured on the Ellen Show.

In December 2020, Principal Moss and Bruce Elementary School was featured in USA Today.
STUDENT PROGRAMS & ACTIVITIES
Bruce offers programs, guest speakers and extracurricular activities that enhance our curriculum. Some of our unique activities include:

Art Club
Basketball Team
Beta Club
Black History Month (February)
Book Club
Career Day
Cheerleading
Community Garden
Dance Team
Drumline
Dr. Seuss' Read to Achieve Day (March)
Fall Carnival
Fat Tuesday Mardi Gras Parade (February)
Field Day (May)
Gentlemen's League
Hispanic Heritage Month (Sept-Oct)
International Festival
Junior Entrepreneurs
Leading Ladies
Majorettes
Newspaper
Safety Patrol
Spring Fest
Spelling Bee (December)
Step Team
Student Council
Yearbook
Contact us
We are here to assist you. Call us at 416-4495 or send us an email to BruceBulldogs@gmail.com for more information on our school and our programs.
School Choice Facts
Students who live within our school attendance zone do not have to submit a school choice application. They can simply register when the early registration period opens for the new school year.

Students who live outside the school attendance zone can submit a General Choice School Transfer application beginning January 26, 2021. Applications are based on available spaces in the school and are processed in the order they are received.

SCHOOL CHOICE LINKS:

QUICK FACTS ABOUT 2021-22 SCHOOL CHOICE

Online school choice application opens 10 a.m. on January 26, 2021 @ www.scsk12.org
One online process for ALL school choice applications, including General Choice and Optional Schools.
Apply online anytime, anywhere using any device with Internet access.
Must have a valid email address to apply; Parents will receive an email confirming date/time of application
Parents of current SCS students should apply using their PowerSchool ID, which is the same as the student's lunch number. Non-SCS students will use a Social Security Number.
Students may apply for two General Choice options and/or two Optional schools.
NO COMPUTER OR INTERNET? Visit a local public library or any location with free WiFi.