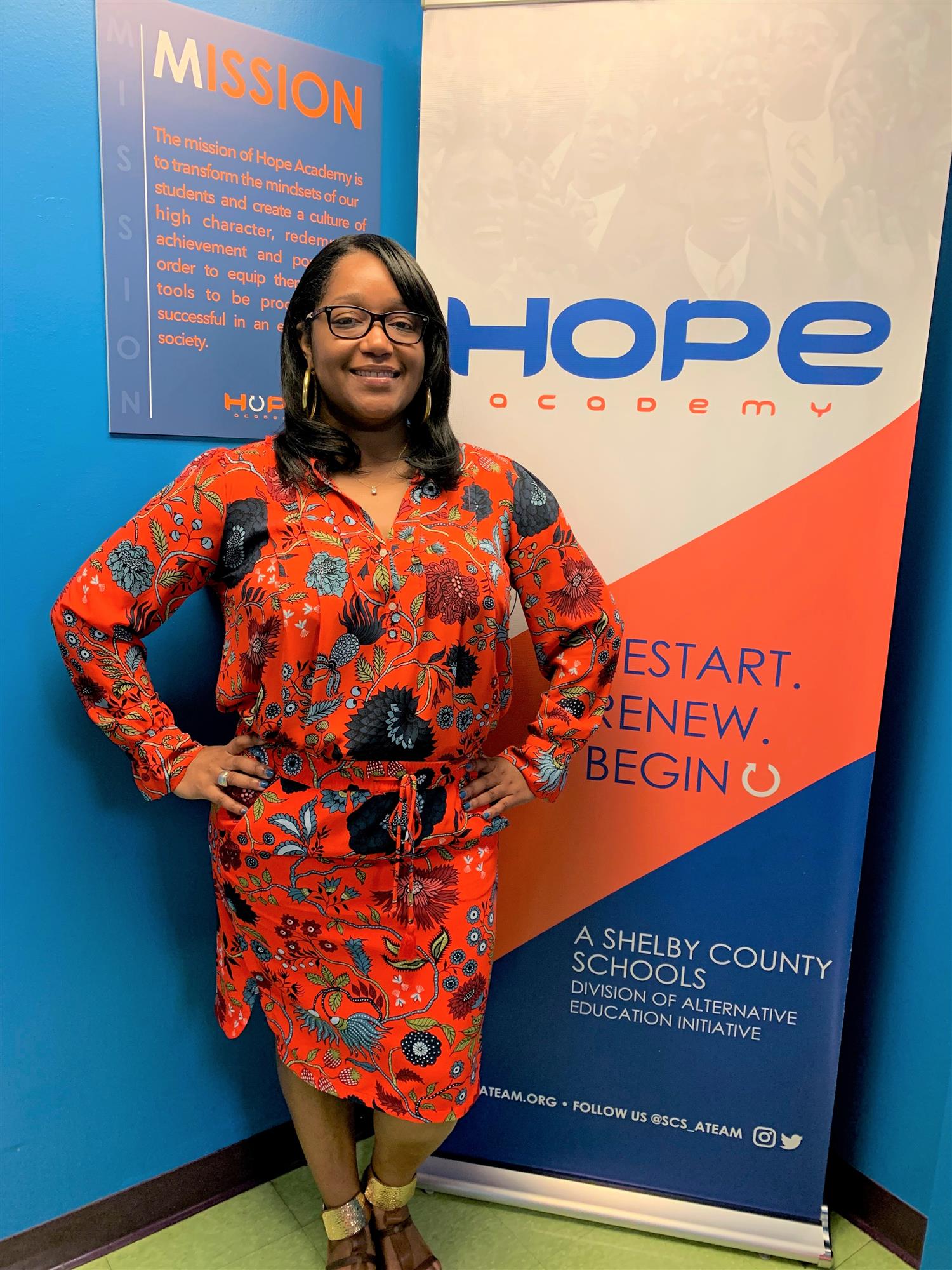 Phone: 901-222-5271
Email:
Degrees and Certifications:
Ms.

Wade

Lakisha Odum Wade is the Professional School Counselor. She is a graduate of Ridgeway High School. She received a Bachelors of Science in Education from University of Memphis. She received a Masters of Science in Special Education from Cambridge College and an Educational Specialist Degree in Educational Counseling from Freed Hardeman University. Ms. Wade has been with Shelby County Schools legacy Memphis City Schools for a total of 14 years. In her spare time she enjoys reading, traveling and spending time with family and friends. Ms. Wade believes that all students should be treated equally no matter their circumstances or challenges.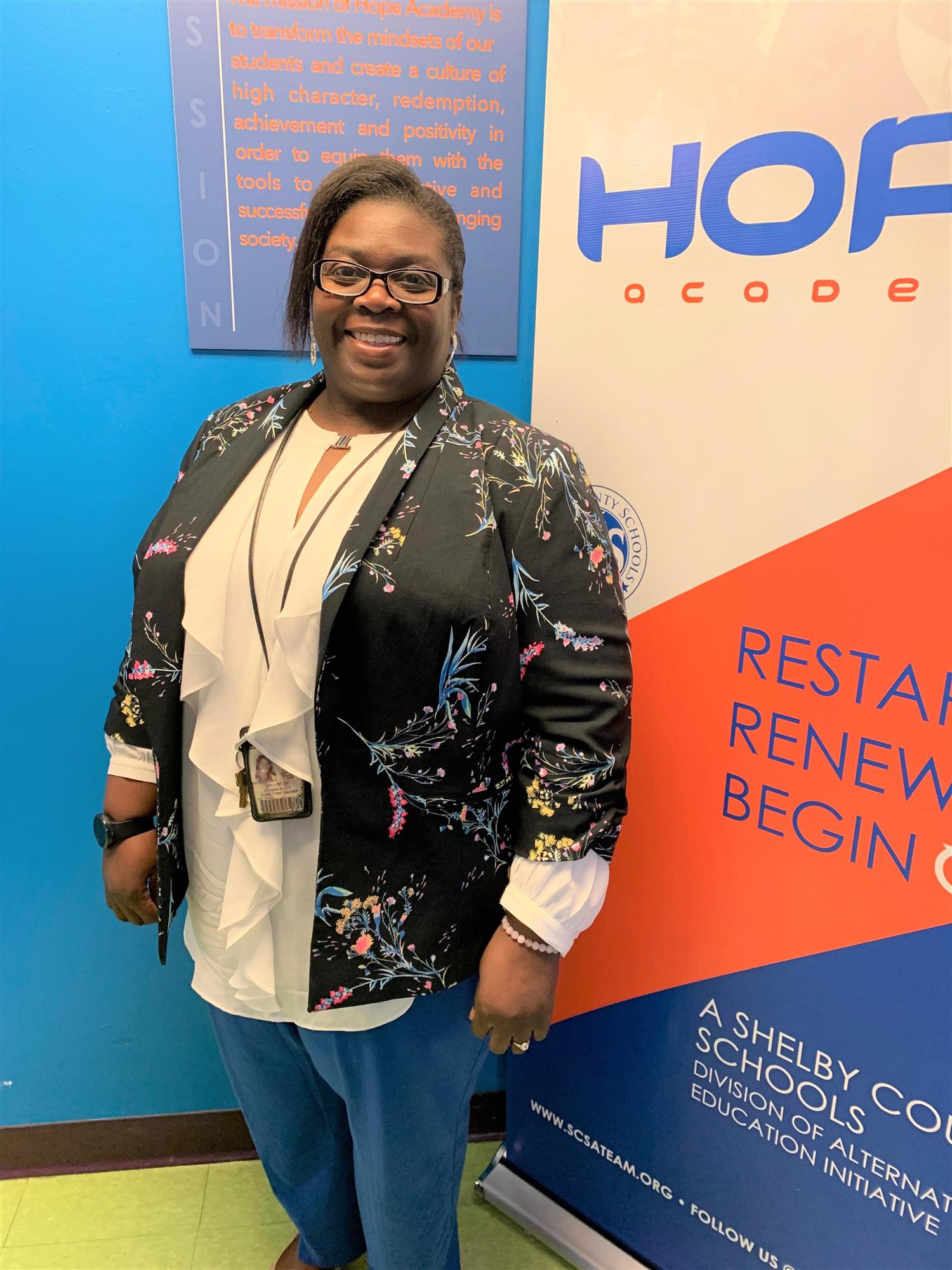 Phone: 901-222-5270
Email:
Degrees and Certifications:
Mrs.

Cummings

Melinda Cummings is the 6-12 grade English teacher at our Hope Academy west locaton.She is a proud graduate of Southside High School, LeMonye College, and Strayer University. Mrs. Cummings is married with two children. Mrs. Cummings has been teaching with Alternative Schools for 19 years. She loves helping children learn and is determined to make a positive impact on the world before she leaves here.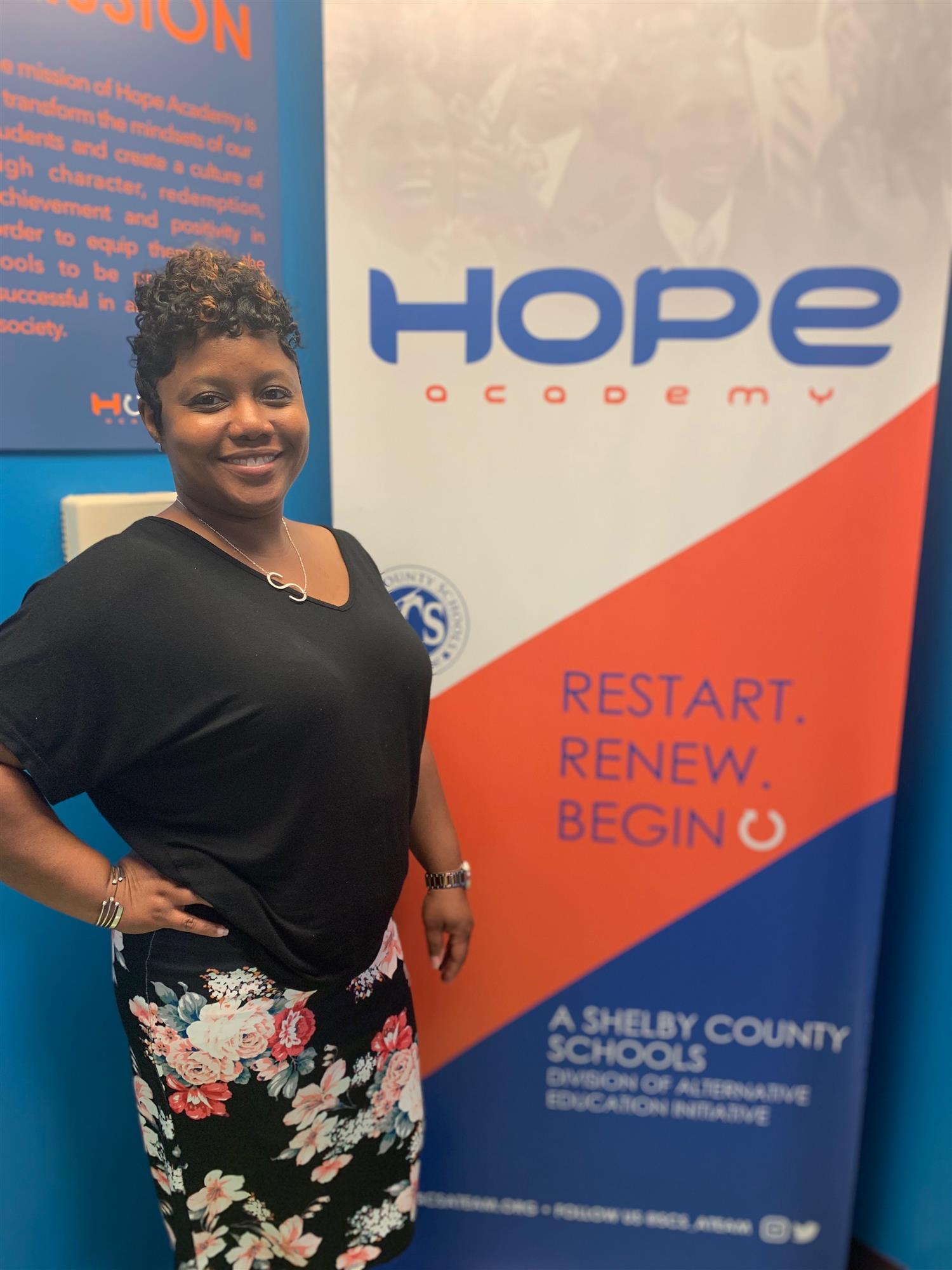 Phone: 901-222-5282
Email:
Degrees and Certifications:
Ms.

Whitehead

Greetings, my name is Shantel Whitehead and I am proud to say that I have been teaching mathematics since 2002. A graduate of Kirby High School and the University of Memphis, I am a lifelong Memphian who has dedicated myself to giving back to the children in my hometown. As a young adult entering college, I thought what is something that I could do that would allow me to solve math problems every day. When my older sister would go up to the University of Memphis to complete lab work as a Biomedical Illustrator major, I would ask to tag along so I could play teacher on the chalkboard in those college classrooms. I think of myself as well as my fellow educators as super heroes every day. Our job doesn't only consist of educating, but we counsel, mentor, guide, protect, and even provide when needed. Our students keep us on our toes and are the reason we continue to come in each day and do what we do. When I am not surrounded by my students, I love spending time with family, friends and my two awesome kids, Robin and Landon. There is nothing better than good southern fellowship.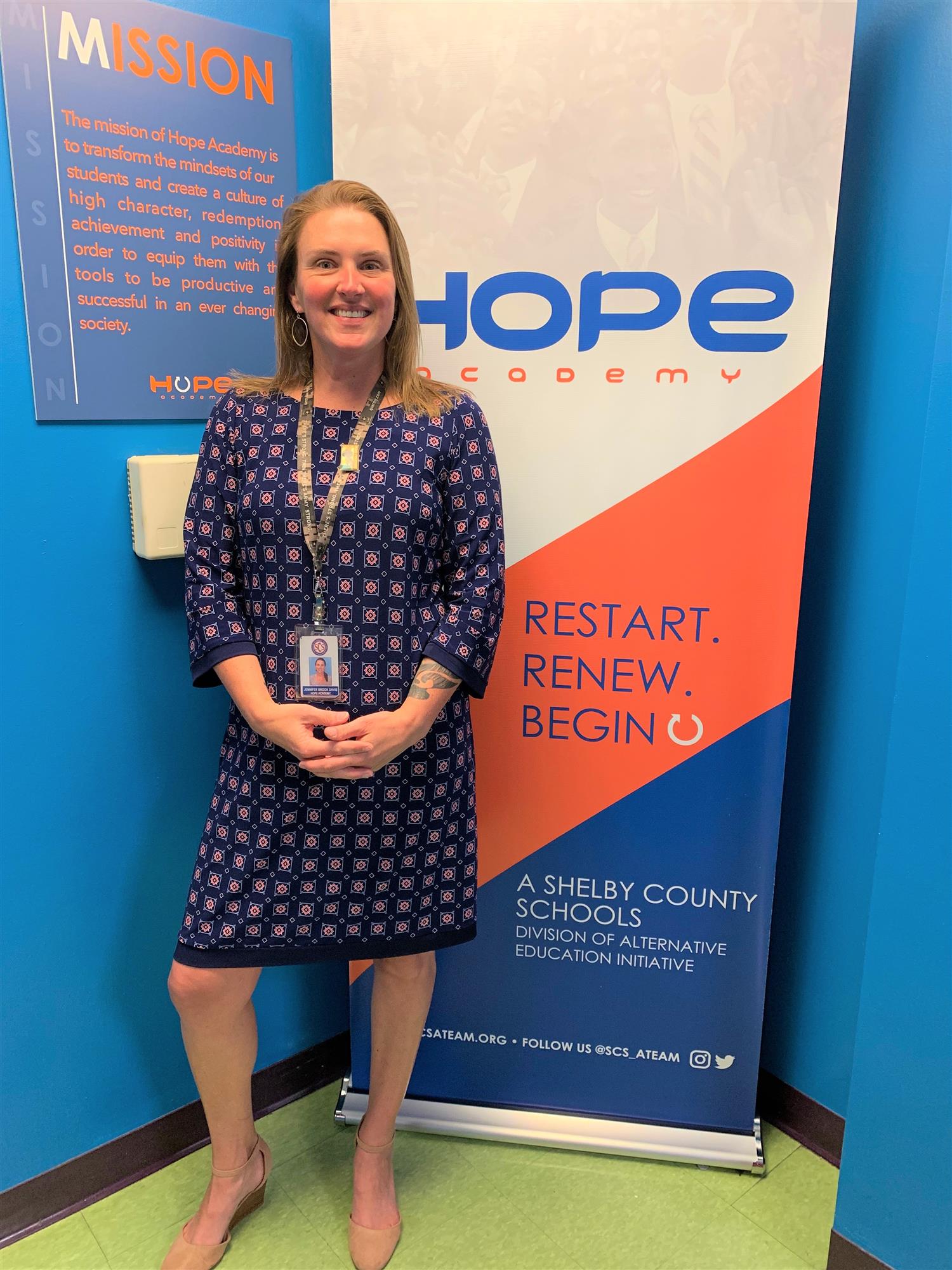 Phone: 901-222-5270
Email:
Degrees and Certifications:
Ms.

Davis

Brook Davis is a Special Education teacher. She grew up in Memphis, TN and moved to San Francisco, CA to pursue her undegraduate degree in Communications at the University of San Francisco. She loved living in the bay area and worked for a brief time in the media industry. She moved back to the Memphis area shortly after she had her daughter who is now a freshman at the University of Memphis. After working in the media industry, she decided to pursue a Masters in Special Education at the University of Memphis. She has taught both in the former Memphis City Schools and Shelby County Schools system. She also obtained her Masters in Educational Leadership and Administration from Christian Brothers University. Ms. Davis served in the United States Army Reserve as an Officer of Military Police and was deployed to Iraq in 2007-2008.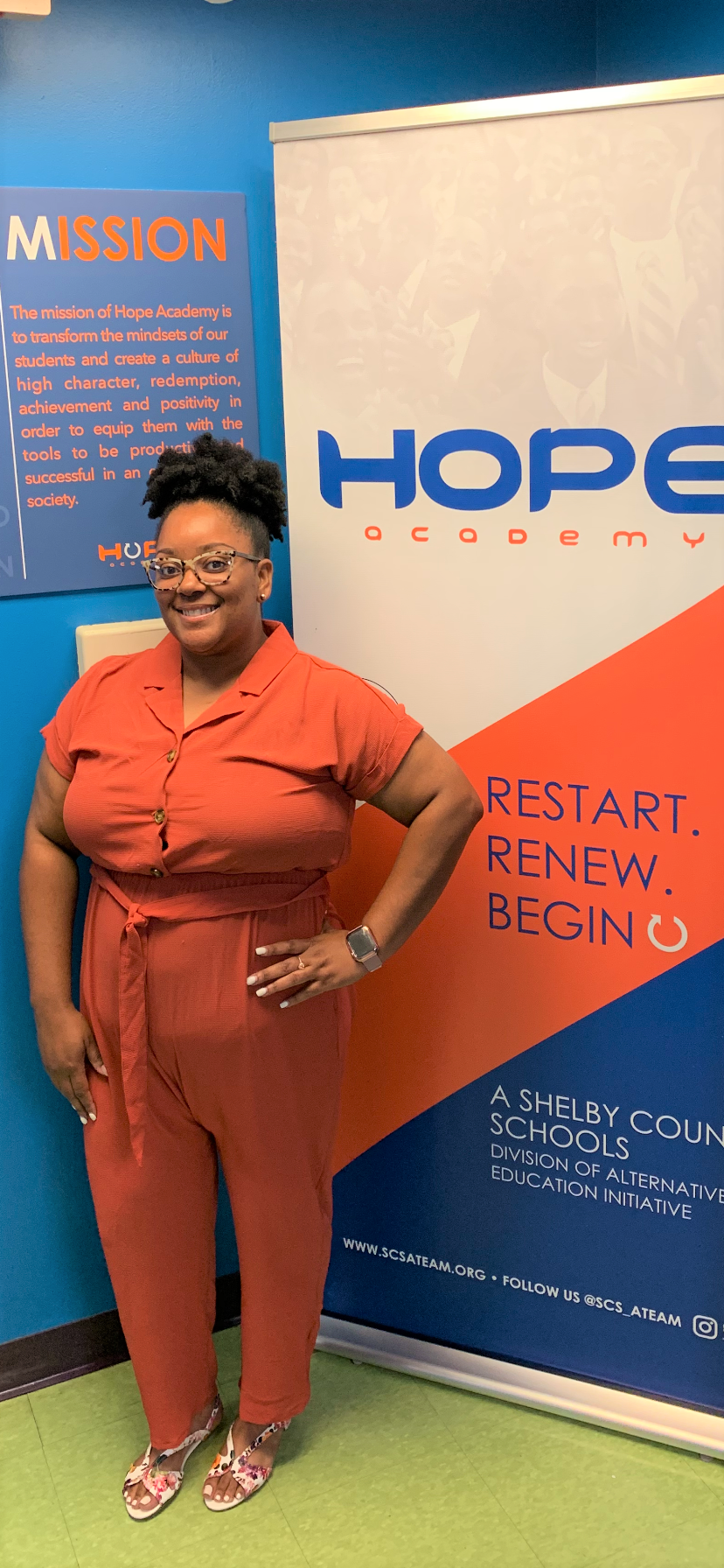 Phone: 901-222-5272
Email:
Degrees and Certifications:
Ms.

Weeks

Dawn Weeks is our Alternative Educational Specialist. She is a 2005 graduate of East Side High School in Cleveland,MS. Ms. Weeks went on to attend Mississippi Valley State University majoring in Business Administrations. Ms. Weeks is the mother of two kids one son and one daughter. She has only been with Shelby County Schools a short time. She enjoys crafting, watching sports/reality tv, making unforgettable memories with her family and traveling in her spare time. She is a firm believer in everyone makes mistakes; but we all deserve a second chance.

.
Phone:
Email:
Degrees and Certifications:
Mrs.

Allen

Earnestine Allen Bachelor of Science in Mathematics - Memphis State University

Graduate Work - University of Memphis and University of Tennessee Knoxville

50 Year Math Teacher with Memphis/Shelby District

Current Assignment -Hope Academy/ Jail East Math Teacher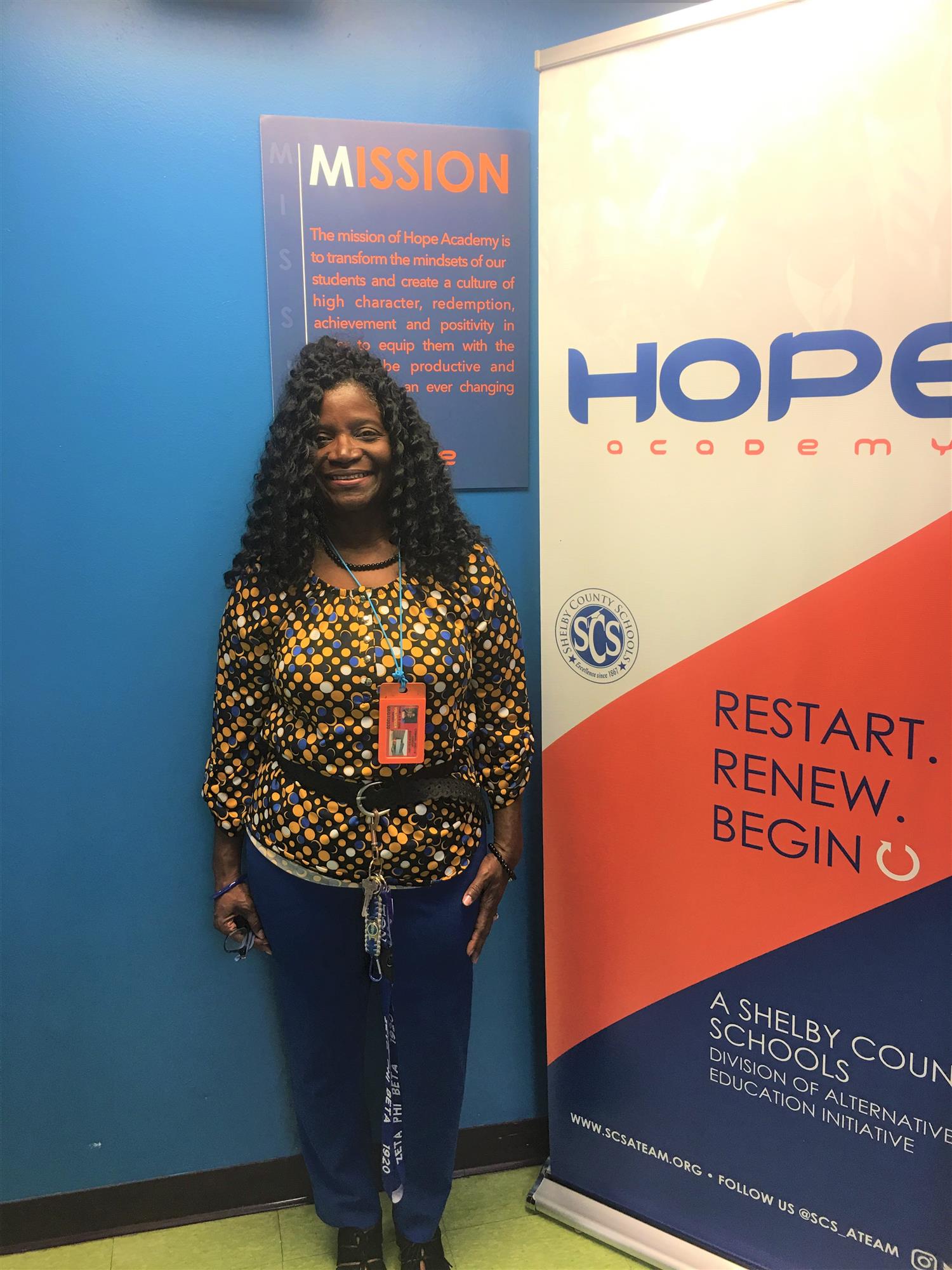 Phone:
Email:
Degrees and Certifications:
Mrs.

Odie-Wright

Mrs. Odie-Wright's is currently the Special Education teacher for the Jail East location.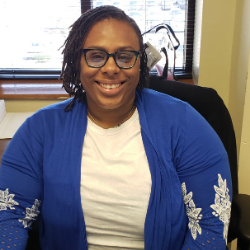 Phone: 901-222-5272
Email:
Degrees and Certifications:
Mrs.

Sims

Hi my name is Courtney Sims and I am the new records clerk for Hope academy. I was born in Vicksburg, MS and grew up in Memphis Tn. I am married and have two dogs named Max and Nova. I graduated from Sheffield High School and attended Rust College. I also attended Southwest TN Community College. My hobbies are traveling and crafting. I believe that if you can at least save one life it's an accomplishment..
Hope Academy
Hope Academy - Jail East