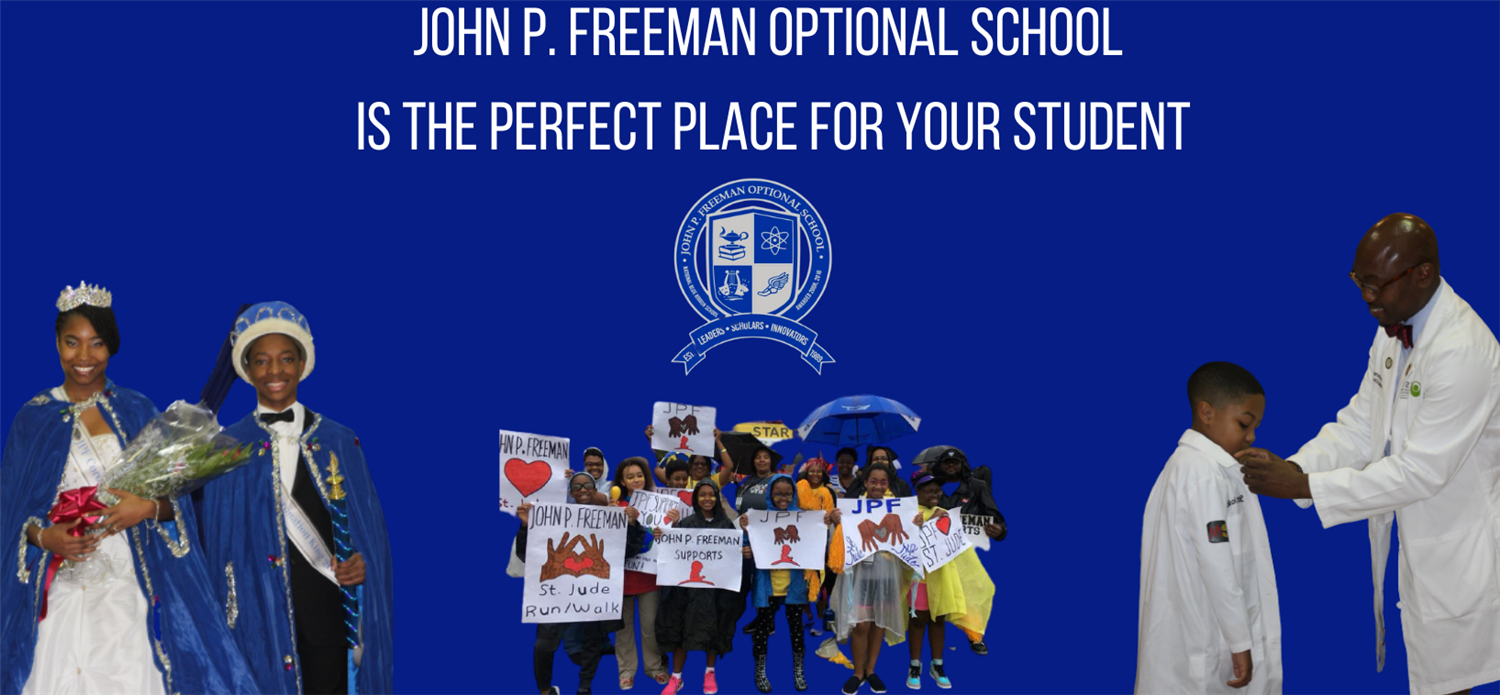 VIRTUAL OPEN HOUSE WEDNESDAY, JANUARY 27, 2020
Every student has their own destination! Find your destination at John P. Freeman's virtual Optional School Open House on Wednesday, January 27, 2021 at 6 PM at http://bit.ly/JPFOptionalOpenHouse2021

Learn about the entrance requirements, application process, and see how our Kindergarten - Eighth graders thrive in an atmosphere where scholars, leaders, and innovators lead the quest for excellence!
ABOUT US
John P. Freeman offers the most STEM infused learning experience for students and builds a strong foundation for the next generation of technology industry leaders.

Recently awarded the Tennessee Valley Authority (TVA) $5000.00 STEM School Grant (December 2020)

2016 & 2018 National Blue Ribbon School

Proud to have 2 faculty members awarded the 2020 National Shell Urban Science Educator Award

Learning is enhanced by giving students access JPF's technology which includes iPads, touch screen laptops, and a 3-D printer.

Students in grades 3-8 won West TN STEM Competition 2nd and 3rd Place Winners (2019-2020)

Bronze-Level School State Designation Status for Social and Emotional Learning Programming offered to students
STUDENT PROGRAMS & ACTIVITIES
We offer a variety of clubs, programs, extracurricuar activities, and athletic programs to expand academic and social development beyond the school day, including:

National Elementary & Junior Honor Societies
STEM Robotics Club
Girls & Boys Basketball
Girls Socceer
Girls Volleyball
Boys & Girls Track & Field
Baseball & Softball
Football
R.U.B.I.E.S. Club for girls
Garden Club
Student Council
National Elementary & Junior Art Honor Socieities
Orchestra
Performing & Jazz Band
Tennis Club
Elementary Choir
Elementary Dance Sprouts
Class Piano
Contact us
We are here to assist you! Call us at (901) 416-3156 or send an email to our Optional Coordinator, Yvonne Morton at mortonyd@scsk12.org for more information about our school and programs.
School Choice Facts
Optional Entrance Requirements For Students In Grades 1-8

• Take the Optional Schools admittance tests, scoring at or above the 65th percentile in total reading and total math (applicants for first and second grades).

• Have satisfactory skills and behaviors and demonstrate mastery of standards in academic and support subjects on most recent report card (applicants for first grade).

• Score at or above the 65th percentile on the FastBridge aReading and aMath assessments; score at or above the 65th percentile on the TCAP TNReady English Language Arts and the TCAP TNReady Mathematics assessments; score at or above the 65th percentile on the NWEA MAP Growth Reading and NWEA MAP Growth Mathematics assessments; score at or above the 65th percentile on the Total Reading/Reading Composite and Total Mathematics/ Mathematics Composite of an acceptable nationally normed achievement test (applicants for third through eighth grades). Acceptable tests must be dated Spring 2019 or later.

• Have satisfactory conduct in academic and support subjects and all A's and B's, with no more than one C as a semester average in all subjects on latest comprehensive report card (applicants for second through eighth grades).

• For renewals, applicants must maintain an overall C average or above in academic courses and satisfactory or above grades in support subjects for semester averages, with no F's or U's on the report card.

• For all grades, all new and renewal applicants must have satisfactory conduct, skills and behaviors and attendance, including promptness to school and to each class (no more than 15 absences, tardies and/or early dismissals for the year).

• Final approval is contingent upon review of student's second-semester/final report card issued by June 16, 2021.