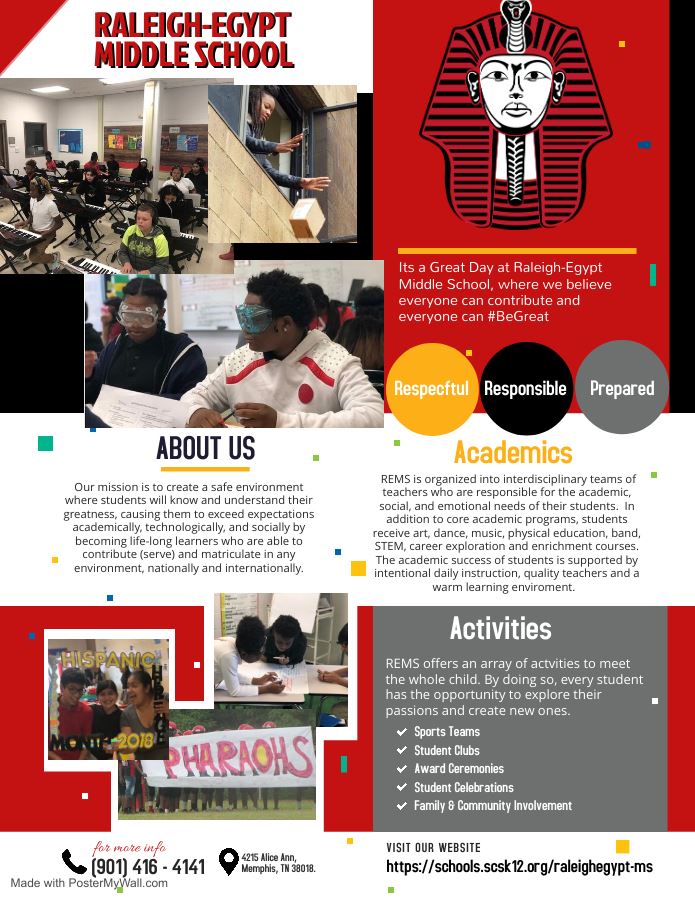 ABOUT US

Vision

At Raleigh-Egypt Middle School, everyone can contribute and everyone can #BeGreat!

Mission

Our mission is to create a safe environment where students will know and understand their greatness, causing them to exceed expectations academically, technologically, and socially by becoming life-long learners who are able to contribute (serve) and matriculate in any environment, nationally and internationally.
STUDENT PROGRAMS & ACTIVITIES

Student Ambassadors

Art Club

Dance

Drama Club

Choir

Film Club

Orchestra

Baseball

Boys' Basketball

Girls' Basketball

Cheerleading

Football

Softball

Boys' Soccer

Girls' Soccer

Boys' Track

Girls' Track

Volleyball

Gaming Club

Cooking Club

Boys & Girls Fitness

Photography Club

Robotics Club

Acts of Kindness Club

Mind Body & Soul Club

Honors Programs
Contact us

Want to know more about Raleigh-Egypt Middle School? We are here to assist you! For questions or more information about our school and programs, call us at 901-416-8174.
School Choice Facts

Students who live within our school attendance zone do no have to submit a school choice application. They can simply when the early registration period opens for the new school year.

Students who live outside of the attendance zone can submit a General Choice Transfer application beginning January 26, 2021. Applications are based on available space in the school and are processed in the order they are received.