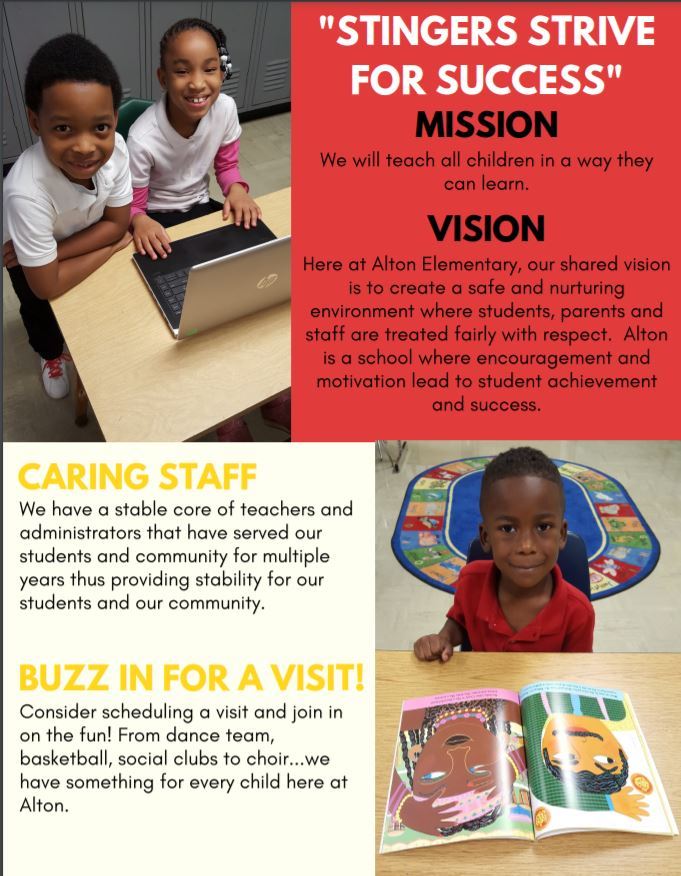 Virtual Open House

Join Us for our Virtual Open house event on January 30th! Meet Principal Anderson, Admin, and Teachers of Alton Elementary!

You will get a chance to hear about the amazing opportunities that Alton has to offer!
About Us

Our Mission here at Alton is to teach all children in a way they can learn.

Here at Alton Elementary, our shared vision is to create a safe and nurturing environment where students, parents and staff are treated fairly with respect. Alton is a school where encouragement and motivation lead to student achievement and success.
Ladies of Distinction

Student Government

Junior Achievement

Reading for the Record

Stingerettes

Arise2Read

Student Government
Contact Us!

We are here to help you!

If you have any questions or inquiry, please

Call at 901-416-7430 for anything you may need!
School Choice Facts!

Online school choice application opens 10 a.m. on January 26, 2021 @ www.scsk12.org
One online process for ALL school choice applications, including General Choice and Optional Schools.
Apply online anytime, anywhere using any device with Internet access.
Must have a valid email address to apply; Parents will receive an email confirming date/time of application
Parents of current SCS students should apply using their PowerSchool ID, which is the same as the student's lunch number. Non-SCS students will use a Social Security Number.
Students may apply for two General Choice options and/or two Optional schools.
NO COMPUTER OR INTERNET? Visit a local public library or any location with free WiFi.
Parents! Please click on this link below to submit any ideas, questions, or concerns about Alton Elementary! All information will be confidential and shared among Alton personel!