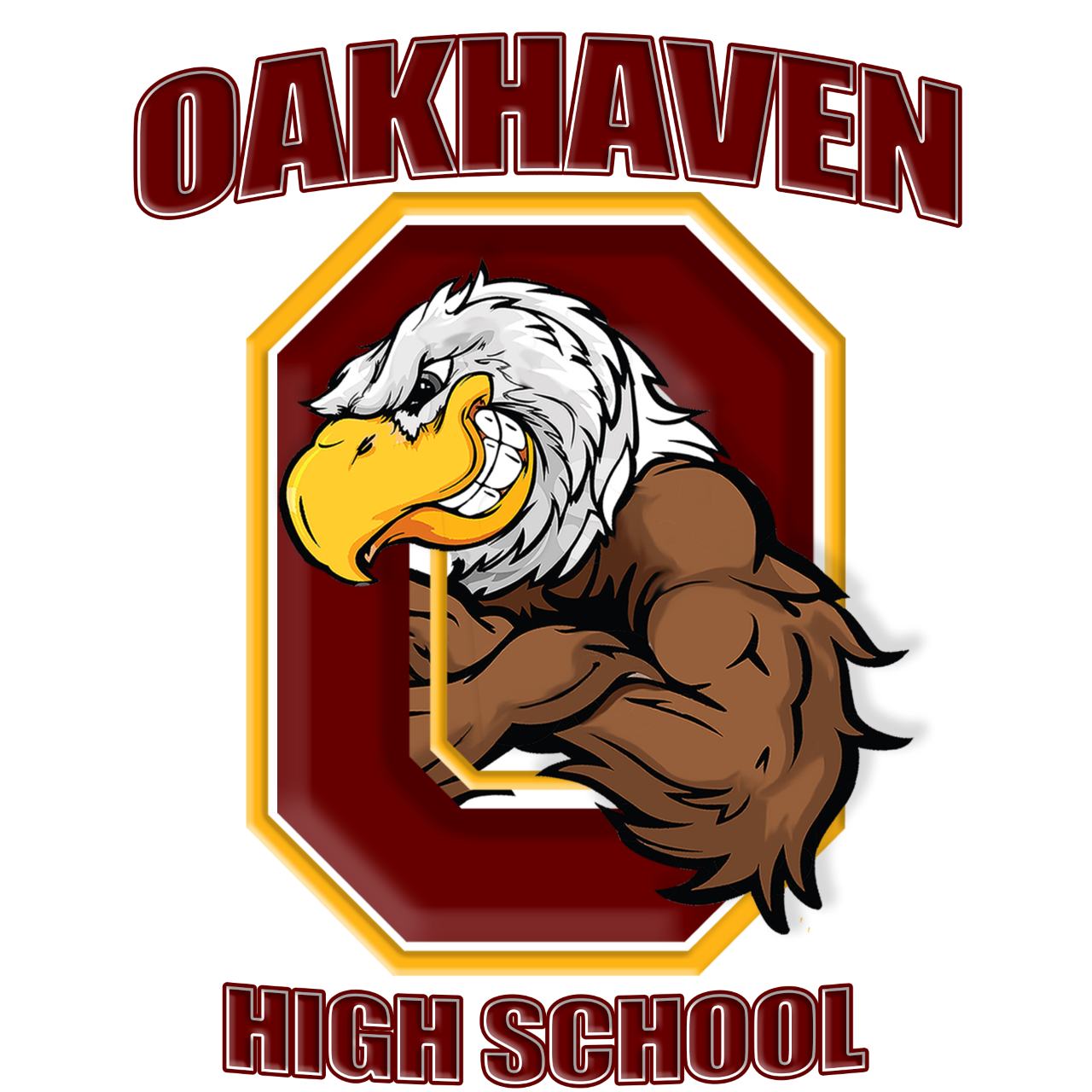 Student Testimonies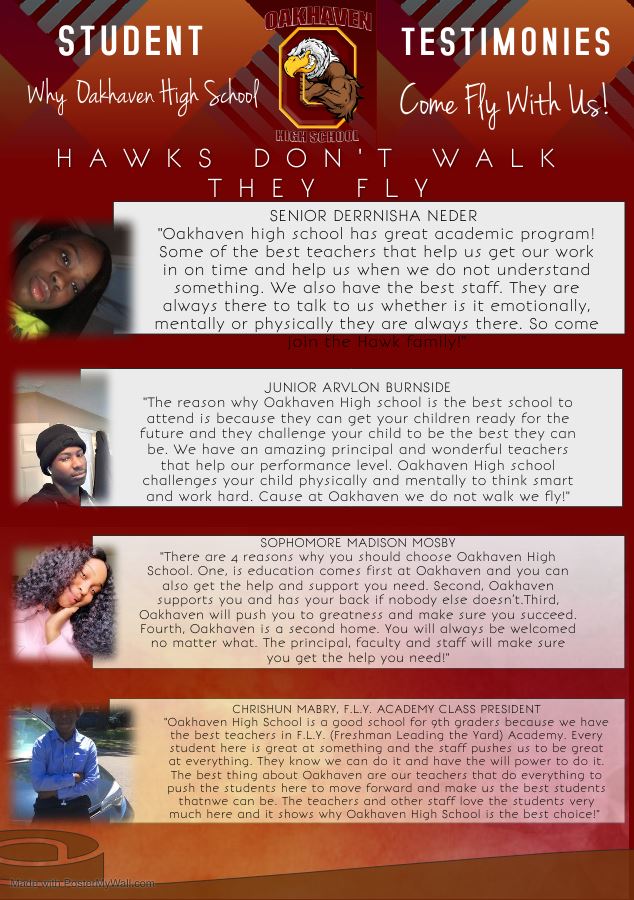 Contact us
OAKHAVEN HIGH SCHOOL

3125 LADBROOK ROAD

MEMPHIS,TENNESSEE 38118

PHONE (901)416-2300

FAX (901) 416-2301

schools.scsk12.org/oakhaven-hs

Interest Form Link:

Future Incredible Hawks Survey
Shared Vision

By 2025, 80% of Oakhaven's seniors will graduate equipped with college and career readiness skills; 90% will graduate on time; and 100% of the seniors who graduate college and career ready will enroll in post-secondary opportunities.

Mission Statement

To achieve our mission, OHS has set a mission to be THE school where ALL students have access to high quality teaching and learning in every classroom everyday

The instruction that OHS students are exposed to in the OHS classrooms will be instruction that equips them with 21st century knowledge and skills.

To ensure our culture and climate facilitate progress towards achieving our vision and mission, the OHS staff and students will exercise a set of CORE values.

The Core Values are:

1. Hardwork

2. Ambition

3. Willingness

4. Knowledge

5. The ability to soar above the rest
OHS CLUBS, SPORTS, AND PROGRAMS
ACT Bootcamps

AJROTC-ARMED DRILL TEAM

AJROTC-COLOR GUARD

AJROTC-LEADERSHIP

AJROTC-RAIDERS CHALLENGE

AJROTC-RIFLE/MARKSMENSHIP TEAM

AJROTC-ROBOTICS

AJROTC-UNARMED DRILL TEAM

ART AND POETRY CLUB

AP (COMP SCIENCE)

BAND

BAND-COLOR GUARD

BASEBALL

BASKETBALL CLUB

BASKETBALL GIRLS AND BOYS

BLACK HISTORY PROGRAM

CHEERLEADERS

CHESS CLUB

CHOIR

CLASS PIANO

COLLEGE FAIRS

CODING

CROSS COUNTRY GIRLS AND BOYS

DEBATE TEAM

DRIP CLUB

DUAL CREDIT (AMER HIST, INTRO BUS, PRE-CAL, SPEECH & COMM, WORLD HIS)

ENGLISH HONOR SOCIETY

EXCEPTIONAL CHILDREN NIGHT

FBLA

FCA (FELLOWSHIP OF CHISTIAN ATHLETES)

FLY 9TH GRADE ACADEMY

FINANCIAL AID NIGHT

FOOTBALL

FR/SOPH/JUN/SENIOR NIGHTS

GARDEN CLUB

HAWK AMBASSADORS

HISPANIC HERITAGE MONTH CELEBRATION

HISTORY CLUB

INSTRUMENTAL MUSIC

JOURNALISM

NATIONAL HONOR SOCIETY

NATIONAL TECHNOLOGY HONOR SOCIETY (NTHS)

O-ZONE BLOCK PARTY

RUNNING CLUB

PEP SQUAD CLUB

PERFORMING BAND CLUB

PHARMACY TECH PROGRAM

PROM

QUARTERLY HONORS PROGRAM

SELF-CARE CLUB

SCIENCE OLYMPIAD CLUB

SHE LEADS

SOFTBALL

SOCCER BOYS AND GIRLS

SPANISH CLUB

STEM ROBOTICS

STUDENT COUNCIL

STUDENT OF THE MONTH MONTHLY SPOTLIGHT

TALENT SHOW

THE BOOK CLUB

THE HAWK EYE (NEWSLETTER)

TRACK AND FIELD BOYS AND GIRLS

TSA (TECH STUDENT ASSOCIATION)

WEIGHTLIFTING

VOLLEYBALL

YEARBOOK
Did You Know?

Birds and people are "sight animals." For both, the eyes are the dominant sense organs, vastly more important than their inferior sense of smell. The reasons for our sensory similarity to birds can be found in human evolutionary history. At one point the ancestors of Homo sapiens were small, tree-dwelling primates. When leaping from limb to limb and snatching of insect prey with the hands, sharp, binocular vision was very handy; those of our forebears that tried instead to smell the location of a branch on which to land were unlikely to survive to reproduce. And since in the breezy treetops odors quickly dissipate, they do not provide good cues for detecting food, enemies, or mates. Birds, flying higher and faster than primates leap, naturally also evolved sight as their major device for orienting to the world.
​ Most birds have binocular vision. It is especially well developed in predators that must precisely estimate ever-changing distances to moving prey. Their eyes tend to be rotated toward the front of the head, so that the visual fields of each eye overlap to some degree. This trend is most pronounced in owls, whose eyes are almost as completely overlapping in field as ours. Small birds that are likely to be prey for raptors tend to have their eyes set on the sides of the head, permitting them to watch for danger in all directions. At the opposite extreme from the owls are the woodcocks, mud probers with eyes set high and back on the head, out of the way of vegetation and splattering mud and in a position to look out for predators. In fact, the woodcock has better binocular vision to the rear than to the front!
The term "hawk-eyed" accurately describes many birds. For example, both raptors that must see prey at great distances and seed eaters that must pick tiny objects off the ground have eyes designed for high "visual acuity" -- the capacity to make fine discriminations. There is, in fact, evidence that hawks can distinguish their prey at something like two or three times the distance that a human being can detect the same creature. Interestingly, even with such visual acuity, Cooper's Hawks are known to hunt quail by their calls.
One way that birds have attained such a high degree of acuity is by having relatively large eyes. A human eye weighs less than I percent of the weight of the head, whereas a starling's eye accounts for some 15 percent of its head weight. But more than size alone appears to account for the astonishing performance of the eyes of hawks. Evolution has arranged the structure of their eyes so that each eye functions very much like a telescope. The eye has a somewhat flattened lens placed rather far from the retina, giving it a long "focal length," which produces a large image. A large pupil and highly curved cornea admit plenty of light to keep the image on the retina bright.