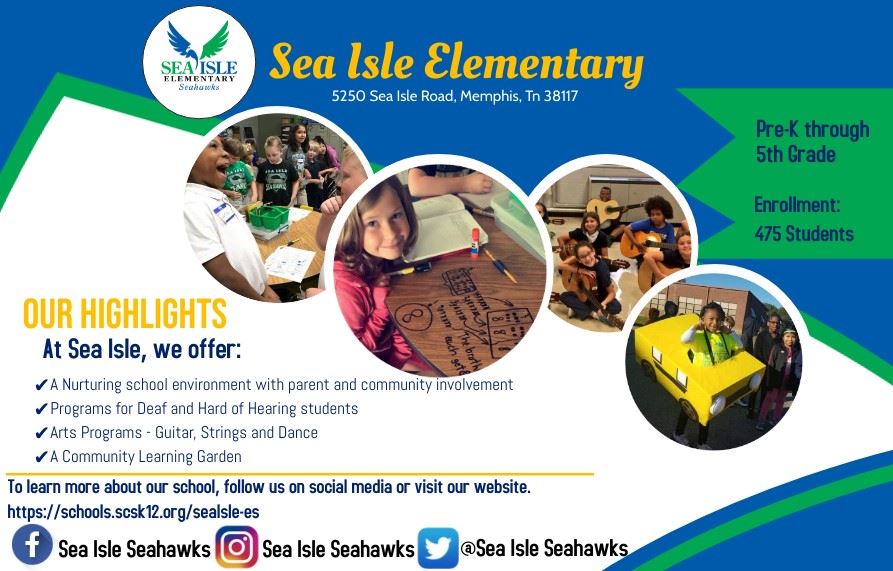 About Us

Sea Isle is a Pre-K through 5th grade school in the heart of the Sea Isle Community. While we are a traditional elementary school, we also offer programs deaf and hard of hearing, as well as visually impaired students. It is our goal to provide a nurturing classroom environment for all students. We believe in educating the whole child. For this reason, we offer various extra-curricular activities to promote creativity in our students.
Extra Curricular Activities

C.L.U.E.
STEM Club
Cheerleading
Dance
Basketball
Guitar Club
Strings
Good News Club
Honor Society
Garden Club
Bucket Drums
Sign Language Club
Art Club
Contact Us

Please contact the school at (901)416-2104 to learn more about what we have to offer. You can also follow us on various social media platforms. Please see the flyer for more information.

School Choice Contact:

Mrs. Dana McGhee, School Counselor

MgheeDM@scsk12.org
School Choice Facts

Students who live within our school attendance zone do not have to submit a school choice application. They can simply register when the early registration period opens for the new school year.

Students who live outside of the school attendance zone can submit a General Choice Transfer Application. Applications are based on available space in the school and are processed in the order they are received.