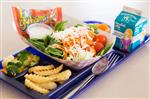 Parents in order to pick up your weekly meals the attached form must be filled out prior to picking up your meals. Fill our this survey monkey link or print out the form and bring the form on the day of pick up.

https://www.surveymonkey.com/r/MealRequest83120

For more information, please contact SCS Nutrition Services at (901) 416-5550.