Return to Headlines
Uzarya Ellis' Celebration of Life | Go Fund Me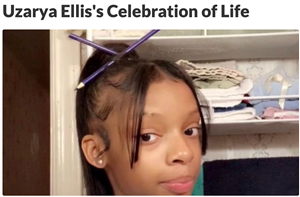 On December 10, 2020 the physical world suffered an unimaginable loss, but heaven gained the most perfect angel there ever was.
There is no way you could know Uzarya and not fall head over heels in love with her. She was a daughter, a granddaughter, a sister, a cousin, a student, and a friend- but above all, her life, her fight, and her story serve as an inspiration.
When describing Uzarya, the word that first comes to mind is "firecracker." A firecracker is a "small explosive device primarily designed to produce a large amount of noise, especially in the form of a loud bang, usually for celebration or entertainment", and that pretty much sums up Uzarya. She had the physical frame of Tinkerbell, with spirit and vibrancy as large as Goliath! In this tiny little package, there was so much explosiveness, joy, and light! Even as I'm typing this, I can't help but smile thinking about her infectious spirit!
The second word that comes to mind is "warrior." Uzarya fought and beat cancer TWICE! Twice, this tiny little angel fought and defeated this horrid disease that invaded her body. But it's not only that she defeated cancer twice...it's the fact that through it all, she managed to be a Honors student (who NEVER let her grades suffer), a majorette (for the Douglass High School Red Devils), and an invaluable support system for so many people who may have been stronger than her physically, but so much weaker than her mentally.
In Spring of 2020 the cancer returned a third time, and she fought, and fought, and fought, but she devastatingly didn't win this most recent battle. Due to a clause about pre-existing conditions, she wasn't able to obtain a life insurance policy. $5,500 could go so far in helping to give her a celebration of life that is befitting of her. Any amount that you can donate is helpful. The goal is that her grandmother and the rest of her family not have to come out of pocket, or have any added stress during this most heartbreaking time.
This fundraiser is organized by Frederick Lee who serves as the Athletic Director and SPED teacher at Frederick Douglass High School in Memphis, TN.